Volcanoes national park is the part of virunga region that is situated in the north-western part of Rwanda and it is mostly known for the mountain gorillas which is the overwhelming product that the visitors look up to seeing when in the volcanoes. The gorilla trekking activity is so possible and enjoyable at this destination. There are ten habituated gorilla groups in Rwanda's volcanoes national a park. These apes are truly the country's most attractive natural attractions by the ways they bring in people far and around to go trek the amazing gorillas is something of  high interest. The various groups in volcanoes include the:
Susa A, this has 28 members currently and is one of the groups that has a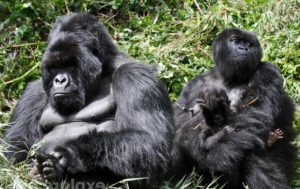 uniqueness in it since there are young twines one named Byishimo and Impano and are characterized to be playful young gorillas mothered by Nyabitondore, it has three silverbacks.
Karisimbi family that is also known as suasa B.It tends to be hard to trek since it is harbored high up on the karisimbi slopes. It really requires a serious hiker to be able to trek this group. The group has 15 members that are all capable of earning you a wonderful experience. There is a group or groups that are locally named and their names are derived from the different characteristics that they have. In this category are the groups or families like the,
Amahooro since they are regarded as the most peaceful group comprises of 17 memebers Ubumwe as the silverback in this family is associated with one silverback, two black backs, five adult females, two sub adult males, two juveniles and five babies. There is a fairly steep climb in order to trek this group.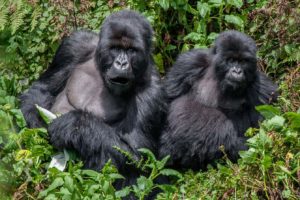 Sabyinyo gorilla group led by a powerful silverback known as Guhonda and is the largest silver back among all the silverback, this group is situated near the park edges and has 8 individuals that's 1 silverback, 3 adult females, 1 non adult female, 2 juveniles and 1 baby.
Umubano group that locally refers to neighborliness comprises of 11 individuals thus 1 silverback, 1 sub adult male, 3 adult females and 6 babies .This group was originally part of the Amahoro group and then it separated making its own group.
Group 13 that is also alternatively known as the Agashya this group was named the 13 group because at habituation it had 13 members at a time, it has a history of conquering  fights it currently has 25 members comprising of 1 silverback 12 adult females 2 sub adults 3 juveniles and 7 babies.
kwitonda family know as humble one since locally the kwitonda means so, has 18members, led by silverback known as kwitonda, this group migrated from DRC and same as Susa B it is strenuous to trek.
Hirwa group driven from the word lucky one in the local language s also one of the many groups that can be found in volcanoes national park, this group is the newest though it tends to have a bond that is stronger than most of the groups .This groups formation is considered as luck since some members came from other groups and then where joined by other groups later on.
Bwenge is the ninth of the ten groups in volcanoes national park has 11 members with a strong and capable silverback it is situated in the slopes of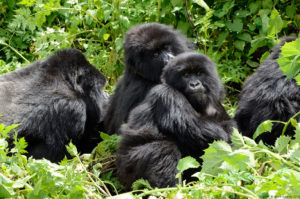 karisoke volcano. This family has passed through difficult times in the past but it is overcoming them through the registered success. To trek this family a times seems a lot difficult since the trails are slippery and muddy but when with them you fill the trek is worthwhile.
The last group is known as ugenda which locally means moving from one place to another since it has that as a characteristic.This group never stays in one position hence making its trek quite difficult since it is found in the karisimbi area of Rwanda.
Book a gorilla safari with us to engage in a tour to Rwanda volcanoes national park to see one or two of the above groups of the gorillas in reality as you also observe the different ways each group behaves.