What is included and excluded in a gorilla permit of Uganda and Rwanda
What is included and excluded in a gorilla permit of Uganda and Rwanda : Gorilla trekking is listed among the most sought for wildlife experiences in the world and this incredible wildlife experience can only be done in three countries that is Uganda, Rwanda and Democratic Republic of Congo.
Conservation of the endangered mountain gorillas has come along right from the time The American Primatologist – Diani Fossey arrived in the forests of Volcanoes National Park in Rwanda, she dedicated her life to saving mountain gorillas. She carried out tremendous research about mountain gorillas, she established a research center which became a base for her works. Her works was faced by criticism from the locals, poachers and animal traffickers.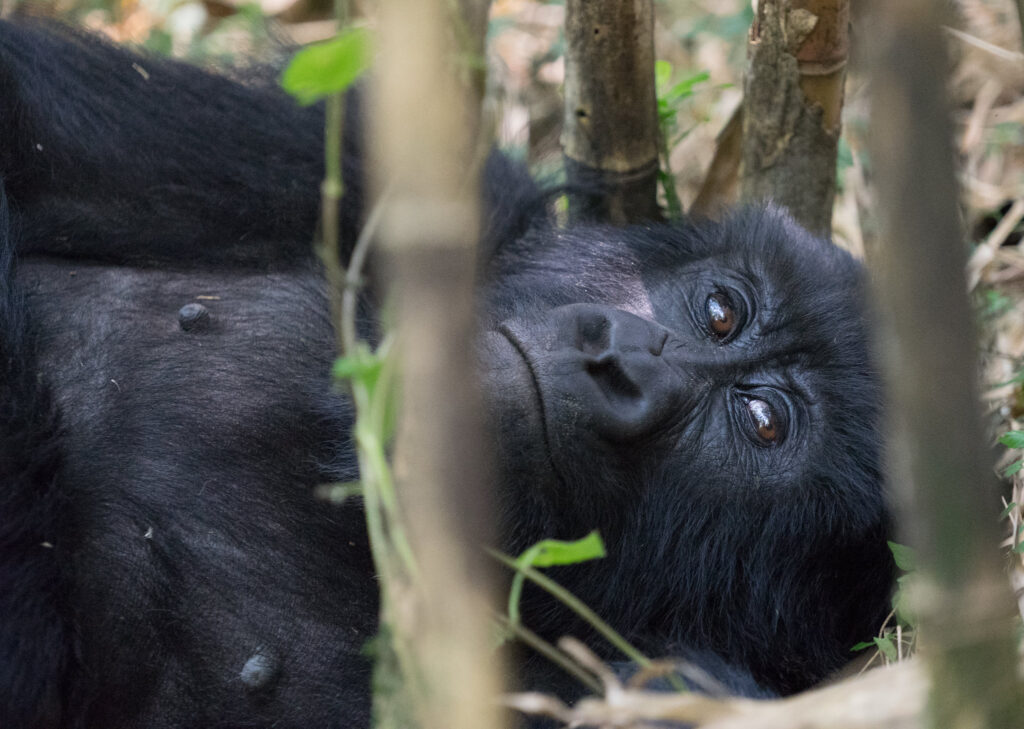 By the 1980s, according to the population census carried out by Dian Fossey and her team. There were about 250 mountain gorillas remaining in the world, this place mountain gorillas on the list of the highly endangered mountain gorillas and there was need to create harmony between the mountain gorillas and humans.
Gorilla trekking is one of the ways created to curb the animosity and support the conservation of the mountain gorillas.
In Uganda, gorilla safaris happen in Bwindi Impenetrable National Park and Mgahinga Gorilla National Park. Currently, Bwindi Impenetrable National Park is home to 20 habituated gorilla families with 2 gorilla families set aside for gorilla habituation experience. In Mgahinga Gorilla National Park, there is one habituated gorilla family.
Gorilla Permits in Uganda are issued or sold by Uganda Wildlife Authority.
In Rwanda, mountain gorillas are found only in Volcanoes National Park. Currently Rwanda has 12 habituated gorilla families open for gorilla trekking, in Rwanda gorilla permits are issued and sold by Rwanda Development Board.
When you purchase a gorilla permit, you support the sustainable existence of the mountain gorillas and the local community.
What is included in the Cost of Gorilla Permits for Uganda And Rwanda?
Park Entrance Fees
To enter any national park in Uganda and Rwanda, you are required to pay park entrance fees. This is one of the ways to collect funds channeled to the conservation of wild animals and maintenance.
With the gorilla permit, the cost of park entrance is included in the permit. The park entrance fees are valid for 24 hours from when you enter the park.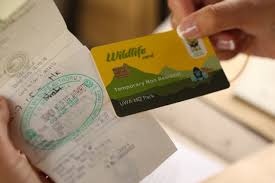 Ranger Guide Fees
Rangers offering dedicated service during gorilla safaris need to payment for their services, they give their life to the existence of mountain gorillas. Having a knowledgeable and experienced guide gives you a sense of safety and confidence during gorilla safari, these rangers also undergo periodic retreats to equip them with new information about mountain gorillas and other forest dwellers as discovered by researchers.
Also, you can reasonably tip your ranger guide as a token of appreciation for the service rendered in the process of finding the mountain gorillas during the trek. Tipping gives them courage to continue defending the mountain gorillas.
Security during gorilla trekking
It is mandatory to have security during the gorilla safari adventure in Uganda and Rwanda, gorilla trekking involves tourists moving on foot in the jungle. So, one to participate in the incredible activity needs assurance of returning live and kicking.
One of the escorting ranger guides carries a rifle in case you encounter any threat while searching for the mountain gorillas. You get with more than one ranger, another ranger carries a machete for trimming thick, tangled creepers and creating away for tourists to access the mountain gorillas.
The ranger guide is always in constant communication with the security team at the ranger station through a walkie – talkie in cased backup is required.
The parks work in collaboration with other security teams in Uganda and Rwanda in order to maintain law and order around the parks, in case extra energy is needed in the security teams of these parks. Other security bodies are always on standby such as the tourism police in Uganda.
Mountain Gorilla Conservation Support
Sustainable mountain gorilla conservation is the aim of all internal and external conservation bodies in Uganda and Rwanda, as mentioned above. Mountain gorillas were on the verge of extinction by the 1980s but with the conservation funds, the current population census indicates that over 1000 mountain gorillas are living.
 To keep conserving mountain gorillas as well as their habitat as encroachers are in place to destabilize the nature life of the maintain gorillas more funds are needed.
All the funds collected from mountain gorilla conservation are used to form more gorilla trekking families through gorilla habituation, gorilla habituation is a process where researchers and trackers escort a wild gorilla family to get them used to human presence without altering their nature.
The period taken to form a gorilla trekking family varies according to how fast or slow the gorilla family adapts to human presence.
Local community support
A portion of the funds collected from gorilla permits is given back to the local community on annual basis, they use this money to support their projects like road maintenance, upgrade schools, dig water sources and others.
When you purchase a gorilla permit, you support the communities situated around the gorilla parks. In order to conserve the mountain gorillas as well as their habitats, the local community around the park needs to be involved. The local community needs to understand the relevance of mountain gorillas to their community.
Gorilla parks conducts community sensitization about the need to protect mountain gorillas, forest dwellers and their habitats. These sessions are supported by some of the funds collected from the sale of the gorilla permits.
Hiring a porter while on a gorilla trek or habituation experience is one of the most direct ways to support the local community, they use the funds collected to support their families by buying scholastic materials, health care, buy food and others.
Certificate after gorilla trekking or habituation experience
Upon completion of a successful gorilla trekking or gorilla habituation experience, each tourist is handed a certificate as a souvenir for having maneuvered the obstacle of gorilla adventure.
The certificate of gorilla safari completion is branded with your own name, the date of the trek and others. Some of the details you forward before the gorilla permit is collected are the information used.
 Time with the mountain gorillas
When you locate the mountain gorilla on a gorilla trek, you are allowed to stay only one hour in the presence of the gorillas. During the gorilla habituation experience, visitors are allowed to stay only for 4 hours. This time was set so not to aggravate the gorillas and also let them continue with their day-to-day life.
The presence of humans normally disrupts a number of mountain gorilla activities of day like feeding, grooming infants, recreation and lounging among others. Even the more time mountain gorilla spends with humans, the more chance of getting offended by humans.
Mountain gorillas are very sensitive primates, this is why rules for gorilla trekking are in place to protect the gorillas as well as the tourists.
Researcher Fees During Gorilla Habituation Experience
Currently, gorilla habituation experience only happens in the southern part of Bwindi Impenetrable National Park. On this adventure, tourists follow a team of researchers and trackers in the wilderness to search for a semi-habituated gorilla family and spend four hours with them.
During gorilla habituation experience, researcher's services are required as they are the ones with knowledge about the gorilla family as well as its traits. The information about the gorilla families under habituation experience is still scanty and being gathered.
Researchers need to be supported and encouraged to carry on with this work which requires dedication
Government tax
For every gorilla permit sold, tax is levied on it as a must contribution to the government.
What is excluded from the Gorilla permit cost for Rwanda and Uganda?
Transport to gorilla trekking destination
On gorilla safari, tourists are required to secure transportation to the gorilla safari destinations that are located in the remote areas of the country. Volcanoes National Park lies in the Northwestern Park of Rwanda, Bwindi Impenetrable National Park and Mgahinga Gorilla National Park lie in the Southwestern corner of Uganda.
You need a 4X4 Wheel drive vehicle because the roads in these areas are bumpy providing the renowned African massage, these roads may be slippery during severe rainy seasons.
For more private travel, air transport by charter from Kigali Airport to Volcanoes National Park is available.
  There are daily domestic flights from Entebbe Airport or Kajjansi to Kihihi or Kisoro Airport are available. However, you need to reserve a seat as soon as possible. Charter flight services are available too in Uganda.
From the airstrip to the lodge, you need to hire a vehicle.
Tips
Tips are not included in the gorilla permit cost for Uganda as well as Rwanda, a tip is a token of appreciation for a service rendered during gorilla safari. Although no specified amount is set for tipping the rangers.
Note: we encourage tourists to tip the ranger generously as they dedicate their life to the existence of mountain gorillas and your safety as well, sometimes they have to rise in the night to risk their lives for a mountain gorillas.
Accommodation During Gorilla Safari
Spending a night within or close to a gorilla destination in Uganda and Rwanda is important, this is because you need to rise up to catch up with the briefing at the ranger station as you need to be in time for the briefing.
Regardless of the reason you might have for missing the briefing, you may be registered as a no -show and chances of being considered for a refund may be slim.
Safari lodges where to stay in Bwindi Impenetrable National Park include Gorilla Safari Lodge, Clouds Lodge, Bwindi View Bandas, Rushaga Gorilla Safari Lodge, Bwindi Back Packer's Camp, Engage Lodge, Ruhija Gorilla Lodge, Nkuringo Gorilla Lodge.
Safari lodge where to stay in Mgahinga National Park on Uganda gorilla safari include Gahinga Lodge, Majambere Iwachu, Community Camp, Mountain Gahinga Lodge, Mutanda Lake Resort.
Safari lodges where to stay in Volcanoes National Park on a Rwanda gorilla safari include Sabyinyo Silverback Lodge, Mountain Gorilla View Lodge, Kinigi Guest House, La Palme Hotel and Hotel Muhavura.
Snacks during gorilla trekking
On a gorilla trek, you need some re-energizers as breakfast is taken so early to last the entire gorilla safari, during the breakfast, you can munch on these snacks before proceeding to find the mountain gorillas.
Porters during gorilla safari
Gorilla trekking is a tedious adventure that is why you need support from a porter. A porter is a local person affiliated with the park who helps you carry your gorilla trekking gear and can give you a push where necessary in order for you to enjoy the gorilla trek successfully.
Any Other Items of Personal Nature
Any sort of items of personal nature such as drinking water, gorilla trekking gears among others are not included in the cost of gorilla permit.