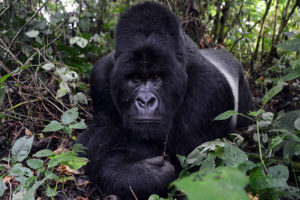 Virunga national park is part of the virunga region that is situated in congo and tends to protect quarter of the endangered gorillas and a lot more. The park has 7800sq km divided into three sectors the Northe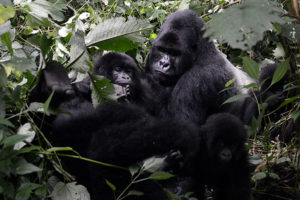 rn sector ,Lake Edward,plus Virungas southern sector. All these sectors harbor many different animal species that are worth exploring. Has numerous vegetation the forests swamp the savanna. The park is almost covered with green vegetation that leaves you wondering on how the animals in this park may appear. This very park hosts a quarter of the low land gorillas that exist in the world and lots of chimpanzees,get to see the rare okapi that has a semblance of the giraffe this can be sighted in the areas below  Semuliki river valley.
GORILLA FAMILIES IN VIRUNGA NATIONAL PARK.
There are six habituated Gorilla group in the democratic republic of Congo. Namely:
Kabirizi family.
This family is has 40gorillas and 3silverbacks.it is headed by kabirizi silverback. The family was once known as Ndungutse family because that was the silverback that was in lead of the family by then but it unfortunately was assassinated in crossfire between Congo and Rwanda rebels.
Humba family. This has 16 gorillas and 2 Silverbacks.it is liked by most visitors and the guides themselves since it is known to be the most calm gorilla family of all the six. The family is led by the silver back Humba who once had a brother known as Senkwekwe silver back that was executed by unknown gun men.Humba is also known to have split up from the father Rugendo and his been a silverback until now.
Rugendo family. This family has six members in total 3 gorillas and 3silverbacks.the family holds a history of where it members split from it and then there were new births though most of the old ones died off.
Mapuwa family. This family mainly has 15 gorillas and 1 Silverback.
Lulengo family is also one of the habituated gorilla families in Congo.It has seven members in total with 6 gorillas and 1 Silverback.
Munyaga family as the last habituated gorilla group un virunga national park and it is the last group that was to be founded by the rangers .It has 7 gorillas and 2 silverbacks and is led by Mawazo silverback.Book trekking permit so as to trekk the low land gorillas in Virunga national park.