Bwindi impenetrable forest is endowed with a variety of species and some refer to the forest as Africa's richest forest precisely because of what it offers, located in the south western part of Uganda and can be accessed through both road and air transport approximately 55okm to the park this distance would take you approximately 8hrs35mints to be covered by road which is fairly good. It's the part of Uganda that is part of the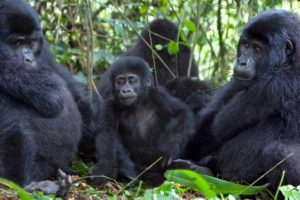 virunga region that harbors most of the world's rare mountain gorillas,the park has ten habituated gorilla families and each group can be visited by 8 persons per day and allowed one hour of interaction on finding the gorillas during the trekking activity.The rest of the portion is divided between Rwanda and Congo. This forest tends to be huge enough and thick thus its name the impenetrable forest.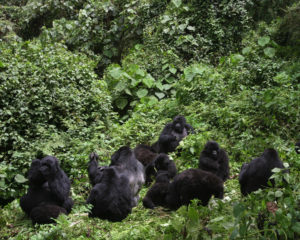 Though with changing times the forest is now a bit less thick and can be penetrated in some areas.In this destination is where you are expected to get the ultimate gorilla experience that will make your safaris a memorable one on sight of the rare mountain gorillas and realization of how they act and their different attributes that they have and relate to humans in the various ways. The other species include chimpanzees that are also known as endangered species and can be trekked by the visitors  a good number of bird life that is found in almost every sector of the forest, tree species, butterflies that are also in big numbers you will be able to get to engage in various activities among which are  Gorilla trekking, Chimpanzee trekking these two activities will require booking before travel to the park since the number of visitors per group is restricted one will need to do the booking on time so as to secure a specific day of trekking and a trekking permit that will have the visitors details and the days of trekking. , Mountain biking, Birding in bwindi, Nature walks can also be arranged along different trails in the park that include River Ivi trail, Muzabajilo loop trail, Rushura hill taril, Waterfall atrial and Munyanga river trail.Endavour to book a safari to Uganda's Bwindi impenetrable national park so as to get access to spontaneous views that will create you the best of memories that you will be able to consider as some of the best times of your safaris.