Best way to purchase Uganda and Rwanda gorilla permits
The best way to purchase gorilla permits in Uganda and Rwanda is through booking with your trusted tour operator, booking is the most essential step to confirming a gorilla safari in the either country.
In Uganda, gorilla permits are issued by Uganda Wildlife Authority and in Rwanda, the Rwanda Development Board has the mandate to sell and regulate the Rwanda Gorilla Permits.
When purchasing gorilla permits for Bwindi Impenetrable National Park in Uganda, you must take note of the sector/where you gorilla permit is booked. Bwindi Impenetrable National Park is divided into four sectors that is Buhoma in the North, Ruhija in the East, Nkuringo and Rushaga in the Southern region. Currently, 152 gorilla trekking permits and 8 gorilla habituation experience permits are issued in Uganda. In Mgahinga Gorilla National Park where there is only one habituated gorilla family, only 8 gorilla permits are available.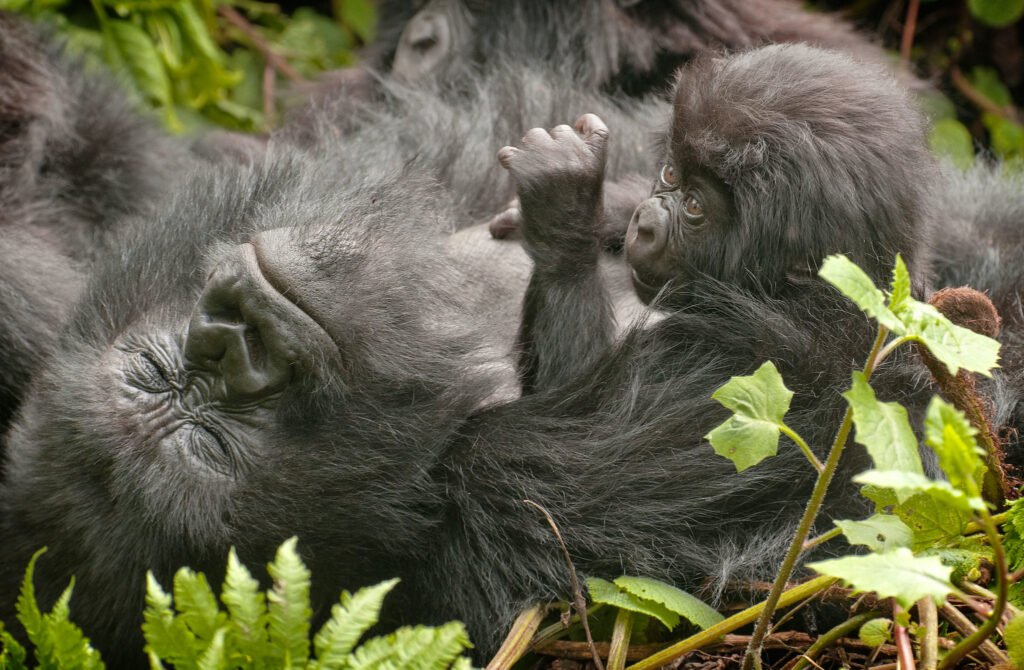 Rwanda's Volcanoes National Park is the only home to the mountain gorillas and currently has 12 gorilla families that are open to public booking with 96 Rwanda gorilla permits per day.
To secure a gorilla permit in Uganda or Rwanda, you can use an accredited tour operator like (company name)
How To Book Uganda or Rwanda Gorilla Permits?
Select where to do gorilla safari.
In Uganda, gorilla trekking is done in Bwindi Impenetrable National Park and Mgahinga Gorilla National Park. In Rwanda, gorilla trekking is done in Volcanoes National Park.
In Uganda, you can choose to do either gorilla trekking or gorilla habituation experience. These experiences are different in terms of hours spend with the gorillas and they cost differently.
Currently, Rwanda offers only gorilla trekking.
Check for Gorilla permit availability.
Before sending your money to purchase the Uganda or Rwanda gorilla permit, you must check for the availability of these permits per your date of preference. You must know the number of gorilla permits you wish to purchase to avoid moving back and forth with checking gorilla permit availability.
Note: Gorilla permits sell very fast and availability status can change in a flash of time, this is why clients are advised to purchase the gorilla permits as soon as possible to avoid disappointment.
Gorilla permits are sold on a first-come, first-served basis because of the minimum number of permits issued per day. Each day, 8 permits are issued per gorilla family both in Uganda and Rwanda.
Forward Personal Details To Include in your Gorilla Permit
You need to forward some of your details like your full name as presented on the passport, Nationality, date of birth and others.
These are included on your gorilla permit card and retrieved on the day of gorilla trekking or gorilla habituation experience in Uganda. In Rwanda, these personal details are for identification and record keeping.
What Is the cost If Uganda and Rwanda Gorilla Permit?
Rwanda gorilla permit costs $1500 per person per trek for foreign non-residents, $500 for foreign residents and $200 for East African residents.
Uganda gorilla permit costs $700 per person for foreign non-residents, $600 for foreign residents and 250,000 shs for East African residents.
What is included in the cost of gorilla permit for Uganda and Rwanda
A gorilla permit cost in Uganda and Rwanda includes ranger guide fees, local community support, park entrance fees, security on the day of gorilla safari, government tax, mountain gorilla conservation, one hour with the mountain gorilla during gorilla trekking or four hours with the mountain gorillas during gorilla habituation experience.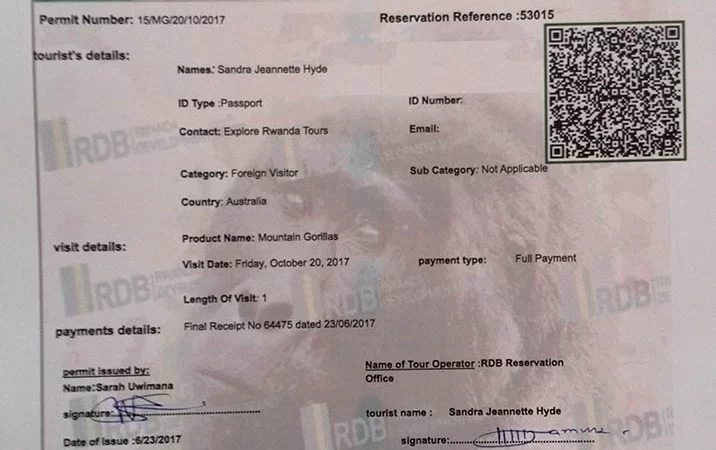 On a gorilla habituation experience, the researcher fee is also covered in the gorilla permit cost.
What is excluded in the cost of gorilla permits for Uganda and Rwanda
The following are not included in the cost of gorilla permits, the porter fees, snakes, transport to gorilla safari destinations, accommodation, gorilla safari gear, and any other items of a personal nature.
Is The Price Of The Gorilla Permit Worth The Money?
The cost of the gorilla permit is worth very cent you spend, gorilla safaris are an adventurous African safari offering visitors an opportunity to contribute to the sustainable existence of the mountain gorillas. These primates are only ones living in the world and are highly protected locally and internationally.
When you purchase the gorilla permit, you indirectly give back to the community where mountain gorillas live. Getting the local community on board is important to understand the relevance of conserving mountain gorillas and their habitats.
During gorilla trekking, you can hire a porter from the local community which is one of the most direct ways to give back to the local community, the funds collected help give them run their day-to-day life.
Can I Purchase the Gorilla Permits For Uganda and Rwanda?
The best choice to purchase the gorilla permits for Uganda and Rwanda is making full payments for your permit, however the Uganda Wildlife Authority and Rwanda Development Board accept installment purchases.
You can pay for Uganda or Rwanda gorilla permits in installments of 30% and 70%
To qualify for an installment gorilla permit purchase, you need to have booked your gorilla permit at least 90 days before the gorilla trekking date.
Remember to top up before 90 days to your gorilla safari day or face a penalty.
In order not to forget to get to top up, you purchase your gorilla permit in full. When you fail to top up your gorilla permit, it is re-opened for others to purchase and you lose the prepaid money too.
When Is The Best Time To Book Uganda or Rwanda Gorilla Permit?
The best time to purchase a gorilla permit is six months to a year upfront to the day of the trek for a gorilla safari in Uganda or Rwanda. Gorilla permits are limited primarily because of the maximum number of 8 people per family allowed to visit.
This was set to minimize the population of people entering the forest per day, mountain gorillas are vegetarian creatures feeding on foliage and their delicacy is bamboo. Also, they feed on tubers, shoots, stems and fruits. Mass tourism effects must be minimized for the gorillas to have plenty to feed on.
When you book the gorilla permit in advance, you avoid panicking at the last minutes as you try to secure one.
During the peak season that is June, July, August, September, December and January, gorilla permits are in high demand in Rwanda and Uganda. Getting a last-minute gorilla permit in the peak season is harder, so purchasing the permit in advance is needed.
During the low season, the demand for a gorilla permit is low. That is March to May and November. Though the gorilla permit availability is not a guarantee, you must still purchase your gorilla permit before confirming a gorilla safari as the permit is the only ticket to this adventure.
How Sure Can I Be To See The Mountain Gorillas In Uganda And Rwanda?
Uganda and Rwanda have mountain gorillas and seeing them is 98% guaranteed, the mountain gorillas live in cohesive families were getting away is sometimes hard. This keeps them together in a particular location for some time, mountain gorillas feed from a spot for sometime and can only depart when food is exhausted.
Prior to find the endangered mountain gorillas, a team of trackers wakes up earlier to follow and establish where these primates may have spent the night and their possible hangout spot.
The rangers use these clues when searching for mountain gorillas with tourists, this is intended to avoid exhausting the tourists as they walk through the dense forests of Bwindi, Mgahinga and Volcanoes National Park.
Also, Mountain gorillas leave traces like footprints, dungs, freshly fed on grass among others. These clues are used by the guides to find which direction they may have taken. You must be observant too during the trek.
Even mountain gorillas are wild animals free to meander in the wild, they have bulky bodies. A fully grown mountain gorilla weighs about 200 kilograms which is about 450lb and a fully grown female gorilla weighs about half this weight, this huge size of the body doesn't allow them to walk to fast.