2016 WORLD TOURISM DAY CELEBRATIONS.
World Tourism Day, scheduled on the 27th of  September every year, is a global annual day of celebration where people all over the world come in together to celebrate  the fruits of tourism annually with promotion of the world tourism organization(WTO).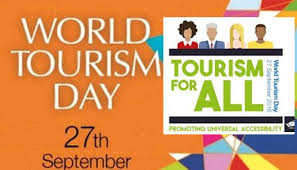 The celebrations this year are going to take place at the golf course grounds in western Uganda particularly in Mbarara district. The celebrations on this tourism day will be presided by the president of Uganda his excellence Yoweri Kaguta Museveni.All tourism day celebrations are conducted under a theme. Last year's theme thus 2015 world tourism day was celebrated under the theme "One Billion tourists, One Billion Opportunities" while 2016 world tourism day will be themed: "promoting universal accessibility" and it is to be celebrated in the  land of milk and honey there will be an opportunity for the people to be able to exhibit the tourism attractions and there innovated activities that would create any tourism a great enthusiasm. The day greatly celebrated to communicate the benefits of the tourism industry to all stake holders thus the environment, government, local societies and the private tourism related sectors and how we can be able to sustain the attractions or the environment so that it can continue to be fruit full for ages to come.
People all over are called upon to play the role of soliciting the various private stakeholders and the tourism fraternity to strongly participate in the 2016 world tourism day celebrations.